Art hoarders unite! If you're a fellow calligrapher, crafter, or art hoarder, you might have seen this online store in the hopes of getting that specific kind of brush or color of ink you can't find in regular book stores. In case you missed it, one of our favorite online craft stores, the Craft Carrot, recently opened its flagship store last May 2016.
Don't be fooled by the laundry shop facade when you look for it. You came to the right address. (Check out the address at the bottom part of this post.) The sign is there… you just have to ask the guard or the laundry shop staff how to get to the store and they'll point you to a hidden staircase at the back end of the laundry shop towards craft heaven!
Craft Carrot sells over a thousand products that are usually hard to find in the Philippines. Last week, I was looking for a brush pen refill which, unfortunately, was out of stock in National Book Store branches and other nearby craft stores. Guess where I found it? *wink wink*
From acrylic paints, calligraphy and drawing inks, markers, drawing pens, brush pens, brushes, DIY crafting and painting tools, watercolor and specialty papers — name it.
A collection of colorful Finecolour twin markers.
Dr. PH Martin's Hydrus concentrated watercolor bottles.
Krink markers, Koi watercolor pans, Faber Castell and Staedtler watercolor pencil boxes.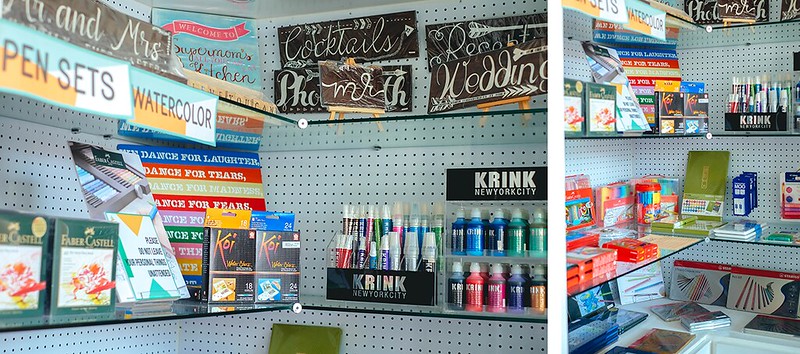 An array of watercolor paper packs of different sizes, press types, thickness, and shades.
Watercolor tubes and manga markers.
Sumi ink, silver mica, and other kinds of calligraphy inks.
Silver Brushes of different types and sizes.
Calligraphy supplies, oblique holders, and vintage nibs.
A huge collection of Zig Kuretake markers!
The place isn't too big and you wouldn't believe it can house such an amount of art supplies one could ask. In case you still can't find what you're looking for, you can just ask the very nice store owner by the cashier desk. Supplies can be requested and the store will notify you once stocks arrive. You can either pick them up at the store or have it delivered by your doorstep! 😉
---
The Craft Carrot flagship store is located at #19 East Capitol Drive corner San Rafael Street, Kapitolyo, Pasig City. In case you're looking for some landmarks, it's just in front of Cab Cafe and Charlie's Burgers! For a quick view of all their products and available supplies, you can check out their website at craftcarrot.com, or visit their Facebook and Instagram accounts.
Store Hours:
Mondays 1PM-7PM
Tuesdays-Fridays 10AM-7PM
Saturdays, Sundays 9AM-7PM